In today's world, where the industry is evolving instantly, the need for better , lighter and easier to manage equipment is what all the customers is looking for. The VC-1000 Series Vertical Centrifuge is being designed mainly for the Oil Base Mud operations (OBM) and with the high cost of these operations there is a need for equipment which affect the 3 main factors:
-Cost
-Environment
-Preserving the drilling fluids

In designing the VC-1000 Series Vertical Centrifuge, the main objective were developing an equipment capable of:
-improving the separation efficiency compared to the usual solid control equipment
-reducing the amount of waste volume Produced
-saving the cost and the customer budget
-An easy to use and maintain equipment were all the parts are accessible and can be cleaned and maintained
-The safety of the operators and the personnel involved in the operation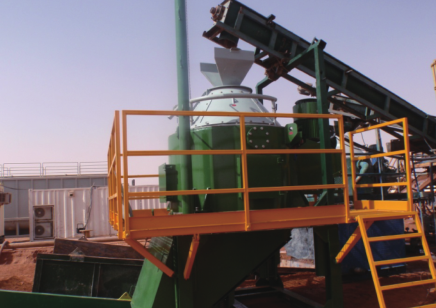 VC- 1000, THE OPTIMUM FORMULA
What is the optimum formula? The optimum formula is the price vs quality ratio which define the value of any proposed equipment. The customers have been in a continuous search for the best quality against the price they will pay for the equipment.

How this formula has been reached? The challenges for ES-KSN were creating the balance between the quality and the cost of this equipment on the customers. ES-KSN capitalized on its close and continues work with its customers in different countries/regions, to reach a balance between the quality and the production cost of this equipment.