KOSUN is specialized in drilling fluid solids control equipment manufacturing in China since 1992. We have rich experience in solids control system design.

Five-stage solids control equipment,including Shale Shaker,Vacuum Degasser,Desilter and Decanter Centrifuge,ensures clean mud recycling and mud can be reused.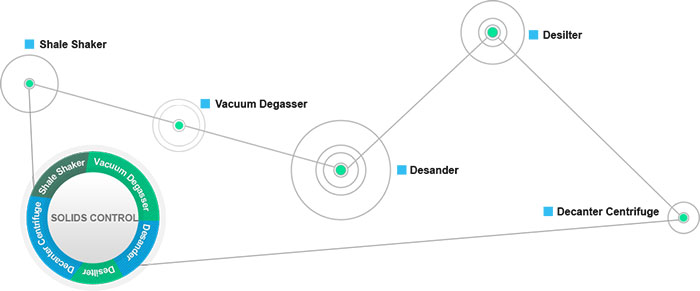 SHALE SHAKER
Shale Shaker is used as the first stage equipment for drilling fluid solids control system. It can remove 74μm or above size particle from mud.

VACUUM DEGASSER
Vacuum Degasser separates H2S and other gases. It is helpful for reducing cone part abrasion on desander and desilter during further handling.

DESANDER
KOSUN Desander is used for separating 45-74μm particle from mud.

DESILTER
KOSUN Desilter is used as 4th stage equipment for drilling fluid solids control system.It separates 15-44μm particle.

DECANTER CENTRIFUGE
KOSUN DC Series Decanter Centrifuge is used for separating tiny particle(dia≥2μm). The proportion and viscosity for the recycled mud can satisfy different mud handling requirement according to the drilling condition.