Application Of Slurry Treatment Plant:
1.Slurry supported grab works for piles and diaphragm walls
2.Deep drilling
3.Tunnelling
4.Aggregate processing
5.Mining Industry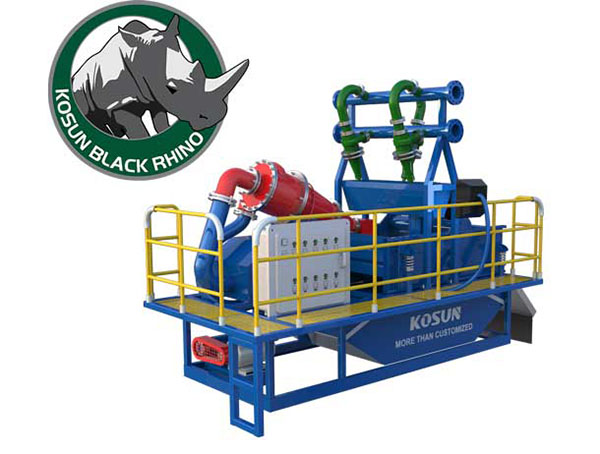 Main Technical Parameters of Slurry Treatment Plant:

-KD-100 Slurry Treatment Plant
Max. Capacity: 100m³/h
Max. Mud Density: 1.18g/cm³
Sand Content (measured by elutriation meter):<18%
Main Body Volume: 2m³
External Dimensions: 3000×1800×2500mm
Total Power: 26kW

-KD-250 Slurry Treatment Plant
Max. Capacity: 250m³/h
Max. Mud Density: 1.18g/cm³
Sand Content (measured by elutriation meter):<18%
Main Body Volume: 2.3m³
External Dimensions: 4050×1600×3500mm
Total Power: 104kW

-KD-425 Slurry Treatment Plant:
Max. Capacity: 425m³/h
Max. Mud Density: 1.18g/cm³
Sand Content (measured by elutriation meter):<18%
Main Body Volume: 2.8m³
External Dimensions: 5570×2200×4600mm
Total Power: 138kW

-KD-500 Slurry Treatment Plant
Max. Capacity: 500m³/h
Max. Mud Density: 1.18g/cm³
Sand Content (measured by elutriation meter):<18%
Main Body Volume: 4.6m³
External Dimensions: 7600×4050×3900mm
Total Power: 212kW
General Description Of Slurry Treatment Plant:

KOSUN KD Series Slurry Treatment Plant is of modular system construction. It is designed for the treatment of all kinds of slurries used in common construction techniques.

KD Series Slurry Treatment Plant mainly consists of scalping shaker module,desanding module and desilting module.As a pre-screener, the scalping shaker can remove coarse particles from mud.The desanding module is equipped with desander (primary cyclones) and fine-mesh shaker and mainly removes granulated sand.The desilting module is equipped with desilter (secondary cyclones) and can conduct a fine separation selectively according to the field needs of customers.Mud closed-loop circulating purification mode and lower water content in slags help reduce the environmental pollution.

Founded in 1992, KOSUN is a high-tech enterprise integrating R&D, production and sale of solid-liquid separation equipment and systems, which can provide diversified solid-liquid separation solutions in the fields of engineering construction, environmental protection, petroleum and petrochemicals.
Tag: Slurry Treatment Plant
(Editor:Kosun Lily.Wang)