3-phase decanter centrifuge can be used in following cleaning, solid remove and impurity remove 3 phase separation field: tar, pesticide, oil filed recovered oil, used oil, waste oil & fat from restaurant, palm oil, oil tank cleaning, oil refining sludge, oil station cleaning sludge, olive oil, orange oil, gas floating sludge, food waste sludge.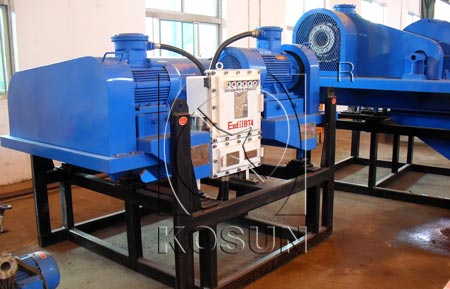 3-Phase Separation Horizontal Decanter Centrifuge Suppliers:
1. KOSUN Machinery Co., Ltd
Founded in 1992, Kosun is the leader in China's solids control industry, and specialize in drilling waste management related machines, construction machines and environment production machines. such as solids control equipment, centrifuges, HDD machine, pumps, shakers, and etc., including 25 categories of products. and can also customize packaged design and matching products.
2.DRITZ Separation - a division of the Andritz Group
ANDRITZ Separation, trusted partner for process solutions for waste water treatment. There is a wide range of challenges in municipal drinking water and waste water treatment: whereas in developing countries the focus is often on setting up a base structure for drinking water and wastewater, in industrialized countries water quality, efficiency and recycling of residual ...
3.GN Decanter Centrifuge Ltd
Horizontal Decanter Centrifuge and Vertical Decanter Centrifuge to process drilling fluids/mud and other industial slurries to the highest environmental standards. Specializing in complete line equipment & shaker screens.International Brand for Mud Solids Control & Drilling Waste Management.
4.Elgin Separation Solutions
Founded in 1864 in Elgin, Illinois, Elgin has evolved into a worldwide leader in design, manufacture and service of specialized processing equipment in the Oil & Gas, Mining, Coal, Aggregates, Minerals, Water, and Pipeline Construction Industries. With vertically integrated manufacturing and design capabilities, Elgin brings to its customers a unique experience that ...
5. Shanghai Centrifuge Institute Co., Ltd
Shanghai Centrifuge Institute Co., Ltd., established in 1958, located on the beautiful Huangpu River bank, is a subsidiary of Shanghai Electric Group Co., Ltd. SCI was engaged in the research and manufacturing of ultra-high-speed centrifuges for national defense science in the early days, and has developed into a high-tech enterprise which developed the most horizontal Decanter Centrifuge... (Editor:Kosun Lily.Wang)